Martial Arts Athletes Medal
Apr 14, 2010
NOTE: This is an expanded version of the original printed article.
It was a busy and very successful weekend for six area families that traveled to U.C. Berkeley to participate in the 41st U.C. Open Taekwondo Championships and the 5th U.C. Yongmudo Championships on April 10 & 11.
According to information provided by Mount Shasta Martial Arts Program head instructor Chuck Buhs, the taekwondo competition on Saturday included an exciting combination of forms (prearranged movements performed with power and precision) and sparring (one-on-one combat using kicks and punches).
On Sunday, the yongmudo competition featured two separate types of competition – groundwork/wrestling and a more comprehensive style of anything-goes sparring that allows kicks, throws, groundwork, joint-locks, and chokes.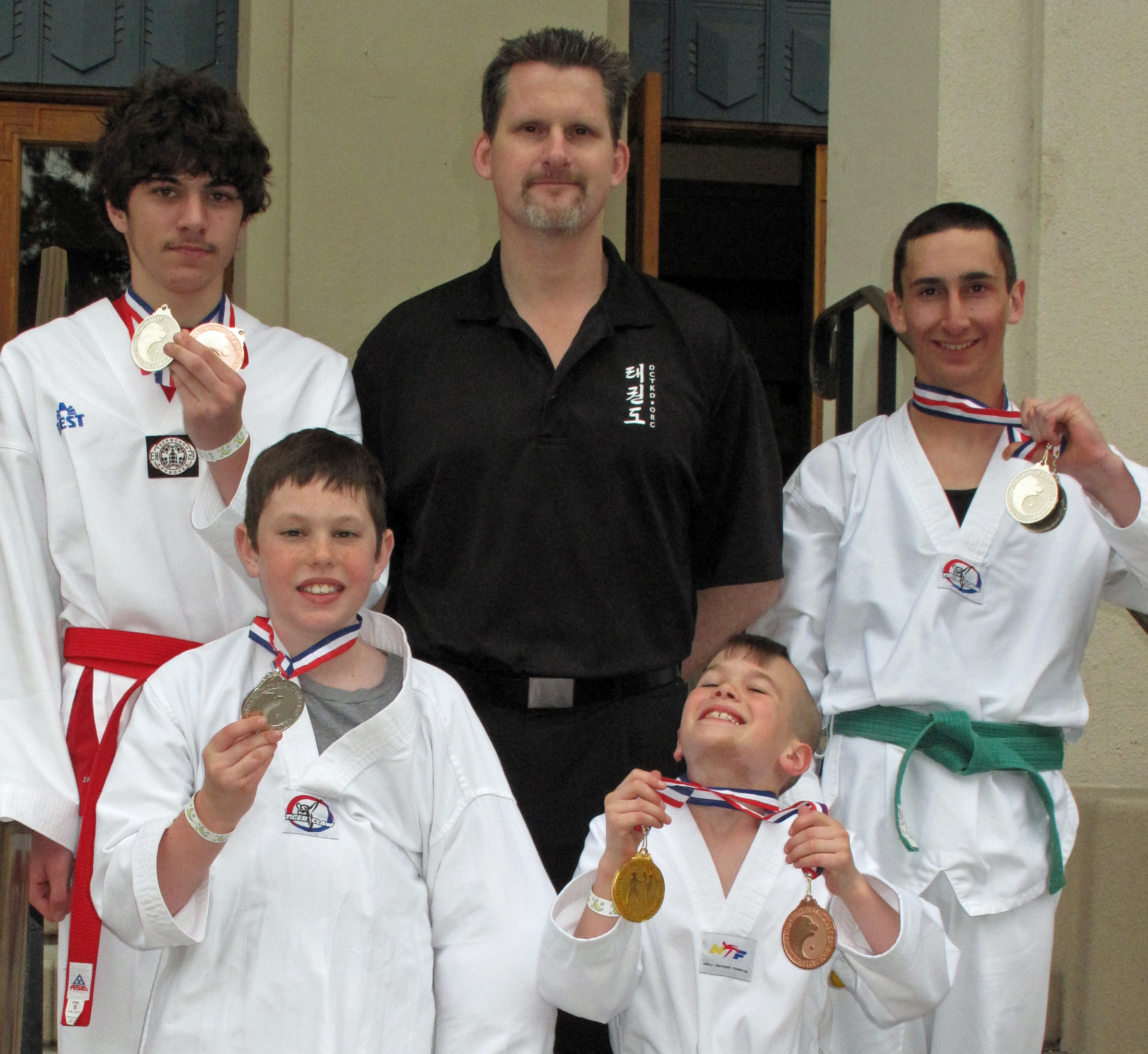 Medals.
Mount Shasta Martial Arts Program competitors, Griffin Hough (15), coach/head instructor Chuck Buhs, Aaron Palfini (16), Orion Alley (9), and Mason Melo (10) after they all competed the weekend of April 10-11, 2010 in Berkeley.
Go to:
Learn more about the UC Open
Fun & Educational
All the competitors won medals in the taekwondo competition with two competitors returning and winning one more medal each on Sunday for the yongmudo competition.
Returning to the UC Open for the second time and winning medals were:
Orion Alley—gold in forms, bronze in sparring;
Griffin Hough—silver in forms, bronze in sparring, and bronze in yongmudo; and,
Mason Melo—silver in forms, bronze in sparring.
Aaron Palfini, training with MSMAP since August 2009 and competing for the first time, won silver in all three competitions.
Thrilled with the opportunity to test his skills against various opponents, Aaron said, "I learned where I stood in my category and how much more training I need in order to achieve the gold medals. This was a very fun and educational experience, and I am looking forward to competing next year."
Aaron's father, Ed, added that he and his wife, Kim, had a great time and that the event was very interesting. "I believe Aaron had great time and experience. I hope to make this an annual event for Aaron. This has been so positive for him."

So Close in Forms
The poomsae competition was a highlight of the day as Orion once again led the way, demonstrating a rock-steady confidence combined with a refined precision of movement. Steve Alley, father of Orion, said that Orion learned to just keep on going and never give up. "I'm awfully proud of the work he's put in and his persistence."
Griffin, Mason, and Aaron were each in very close poomsae competitions. Aaron, making a few mistakes with his form, ended up with a tie-score (a theme for him for the day). He and the other competitor were in a run-off for second place. Aaron performed much better given a second chance. Mason was very steady with his form and missed gold by a few tenths of a point.

Sparring Action
Sparring was a greater challenge for the group. First, Orion faced a taller opponent who was able to effectively use his reach advantage. Orion countered by alternatively moving inside to kick and punch and outside to avoid his opponent's attacks. Mason, paired against a larger, higher-ranked opponent, was in a gritty match with determination and movement.
Griffin finally encountered an opponent his own size with more skill and experience, as he squared off against a teen black belt. Although his opponent quickly built an early lead (4-0), Griffin began utilizing his skill, power, and movement collect points and make the opponent a bit more worried and confused. Heading into the final seconds, Griffin was down by one point, 9-8, before the opponent scored one final time.
Without expectations, Aaron quickly challenged his first opponent with counters, speed, accuracy, and lots of movement. In the final seconds of the match, Aaron was up, 3-2, when his opponent scored with a roundhouse kick to the body, tying the score. In sudden-death overtime, Aaron quickly scored on a step-back counter to the body. In his next match, Aaron again was challenged by a strong, quick, equally skilled opponent that required all his scrappiness to again tie the score in the closing seconds, 4-4. After some give-and-take in overtime, his opponent scored the final point.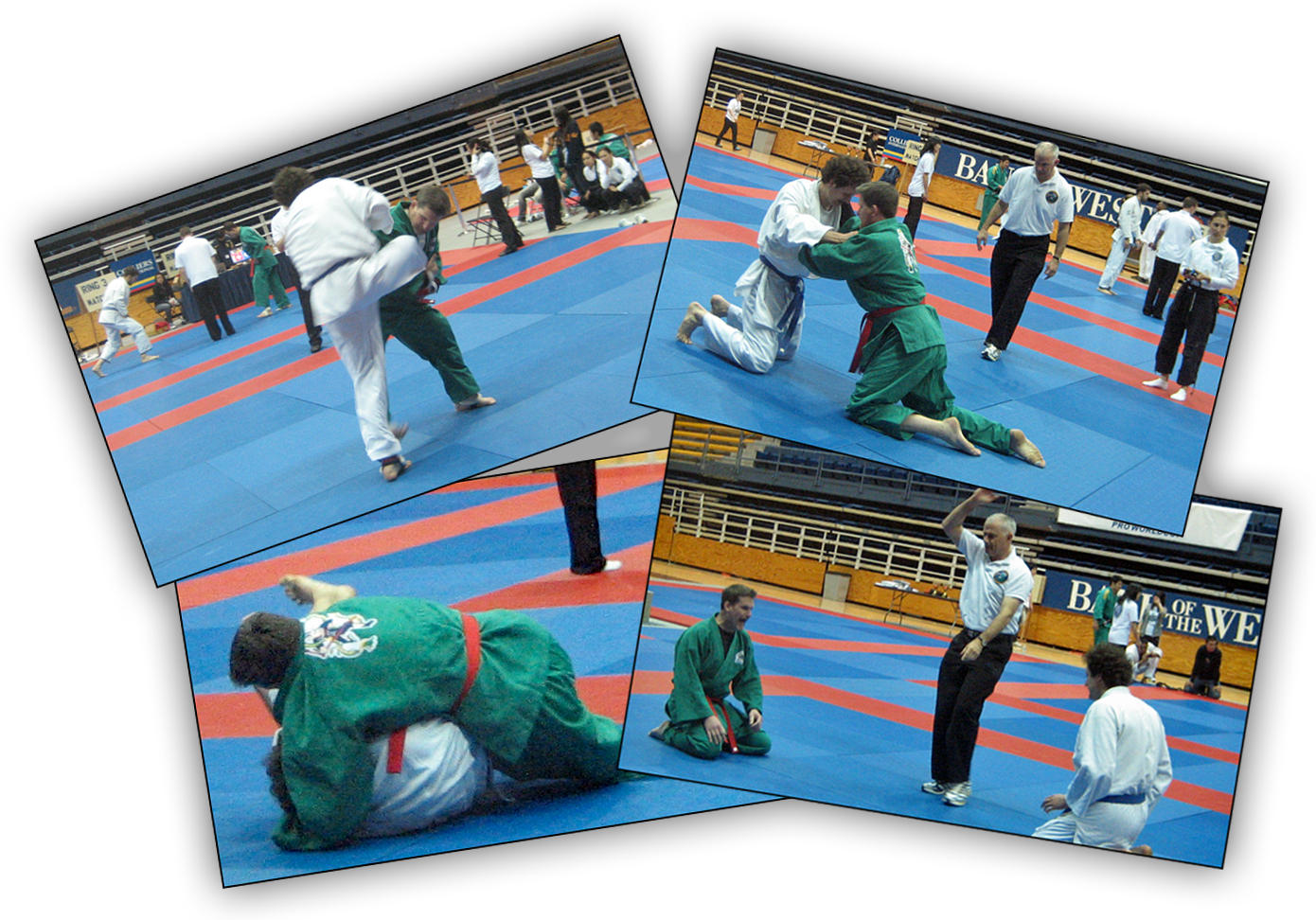 Action Philosophy
The yongmudo competition on the following day was also filled with plenty of excitment. Competing against college students, Griffin and Aaron had to utilize all their speed, strength, and ingenuity to compete in the groundwork competition. Griffin faced a talented competitor who was much stronger, so Griffin relied on his quickness to keep moving into other positions trying to gain an advantage.
Aaron quickly established dominance in winning his first match. For the next match, Aaron faced a typical U.C. Berkeley student — very smart and very wily. He would counter Aaron's aggressiveness and attacks with effective movements requiring Aaron to try many different strategies searching for a weakness he could exploit.
Buhs, who said he applied the ideal of martial arts as an "action philosophy," participated in an international exhibition match against a Korean collegiate competitor, won gold in both yongmudo competitions, was selected as the Outstanding Male Competitor of the tournament, and earned a spot on the U.S. Yongmudo Team attending the Yongmudo World Championships in Korea in August.

More Information
MSMAP is a 501(c)(3) non-profit providing empowering activities for youth, adults, and families since 2001. MSMAP specializes in taekwondo, yongmudo, and self-defense instructional training. More information is available on their web site.