Plan Ahead - Better Safe Than Sorry
A Few Things to Consider
It's always good to have a plan just in case things don't work out or it's simply time for the date to end. The main thing is to simply be comfortable with who you're with, where you are, and what you're doing. And it's OK to change your mind...at any time.
Cellphone. Always take a cellphone with you and make certain the battery is fully charged. Also, install and use the Circle of 6 app on the cellphone (see below for more information)
Pocket Money. Make certain that you have enough pocket money to get home. You never know what might happen (such as a date gone bad). Plus, it's good to be independent with the option to leave at any time. Keep a number to a taxi company. Always know where you are at any given time.
Communicate Clearly. Others cannot know your thoughts unless you tell them. Clearly. Do not give the impression that you are secure and happy with others when you are not. If you don't like something, say as much in a strong and assertive voice. "I don't like what you're doing! Stop!"
Communicate Often. If you are ignored or not taken seriously, repeat your expectations in a firmer more forceful manner.
Alcohol & Drugs. The danger is a loss of control over body and mind. If you are going to use them, think: "Am I in control? Can I take care of myself?"
Do not become isolated. Stay with your friends and do not allow yourself to be alone with one or more other people (Vogt, 104).
Know Your Location. Know where you are at all times.
Trust Your Instincts. When your intuition says that something is odd, wrong, or even dangerous, trust it. Some warning signs given by others include aggressive behavior, jealousy, attempts, to control or isolate you from others, put downs, sexist remarks, unpleasant sex, and heavy use of alcohol and drugs.
Go to: What is "Intuition"?

CIRCLE OF 6: 2-Clicks on Your Phone for Quick Help!
This smartphone app for both iOS and Android is an easy way to get help from trusted friends (2-clicks for an automatic text message and GPS-guided map) or other resources. It's the winner of the White House/HHS Apps Against Abuse Technology Challenge and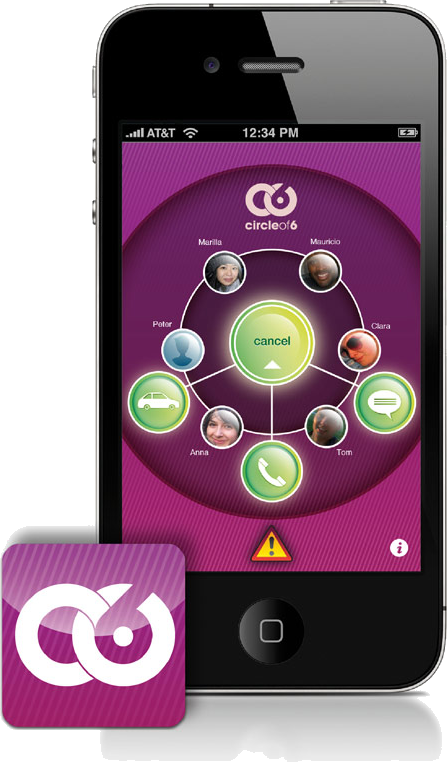 The Institute of Medicine / Avon Foundation for Women End Violence @Home Challenge.
Come and Get Me. Right Now! You're out late and you lose track of your friends. Use Circle of 6 to send your circle a "come and get me" message- with a map using GPS to show your precise location.
I need an interruption: Call Me. Now. You're on a date that starts to get uncomfortable. You need a polite way to excuse yourself. Use Circle of 6 to alert your circle to call you and interrupt the situation.
I need some advice. You're seeing someone new, but you have some doubts about how things are going. Use Circle of 6 to access a wealth of online information about healthy relationships.
In critical situations, use Circle of 6 to call two pre-programmed national hotlines or a local emergency number of your choice.
For more information, visit the Circle of 6 website:
Go to: Circle of 6 Website
College Party Defense Strategies
Here's a few things to consider specifically a a college-safety system.
Buddy System. Don't leave home without one. Arrive and leave parties together and never leave each other when one buddy has had too much to drink or is behaving strangely due to possible drugging.
Drinks & Drinking. Don't drink to excess. Stay in control. Never to put your drink down, never hand it to someone you have just met, never accept an open container or drink from anyone, especially someone you have met at the beginning of school.
Communicate Clearly. Some male students systematically take advantage of college party situations to coerce or manipulate women into sex. Clearly state your expectations and objectives. Do not compromise standards.
Party Rapists. Party rapists target women who are alone and try to separate women from their friends. Stay in a public place and stay out of private rooms. Be wary of men who pressure others to drink and are overly enthusiastic about getting others drunk.