Overview - Teen Dating Violence
A Few Things to Know
WHAT IS TEEN DATING VIOLENCE?
Teen Dating Violence (TDV) is a pattern of abusive behaviors that someone uses for power and control over their dating partner. Because this behavior is not about support and respect, it only gets worse over time. And, it makes it more dangerous for the young victim.
Go to: The Attacker's Plan


TYPES OF VIOLENCE
There are five types of Teen Dating Violence:
Physical,
Verbal,
Emotional,
Psychological, and
Sexual.
In addition to these types of abuse within a dating relationship, teens can be the victims of stalking and electronic aggression. "Teen dating violence can occur in person, on the phone, via text messaging, email, and online social networks." (Centers for Disease Control)


CONSEQUENCES OF DATING VIOLENCE
It's not good: Several studies show a strong connection between dating violence experienced during adolescence leading to behavioral and health problems as young adults for both boys and girls with girls being more likely to suffer long-term negative effects including experiencing victimization in adult relationships (Mulford; Exner-Cortens). For example, &dquo;approximately 1 in 5 women and nearly 1 in 7 men who were victims of rape, physical violence, and/or stalking by a partner, first experienced some kind of dating violence between the ages of 11 and 17 years." (National Intimate Partner and Sexual Violence survey, 2010 Summary Report; CDC)

Girls that are victims of teen dating violence can exhibit increased antisocial behavior, depression, binge alcohol drinking habits, cigarette smoking, marijuana use, and suicide attempts.


Boys that experience violence in a dating relationship can develop increased antisocial behavior, depression, smoking, thoughts of suicide, and drinking more alcohol. (Mulford; Exner-Cortens)
Teens that experience abuse in their adolescent relationships as either victim or victimizer (or both), show emotional and temperamental instability for life with long-term physical ill-health and disturbed mental state.
Go to: More Statistics & Studies


GET HELP!
If you or someone you care about is in an abusive relationship, call the National Dating Abuse Hotline at 1-866-331-9474.
Go to: Get Help...Right Now

Cycle of Abuse / Violence Continuum
This diagram show the pattern of unhealthy relationships. Although it's normal for people in a healthy relationship to disagree, how those disagreements are resolved is a huge difference between healthy and unhealthy relationships. Note that the longer an unhealthy relationship continues, the darker and more frequent the explosions or "storms" in an unhealthy/abusive relationship become.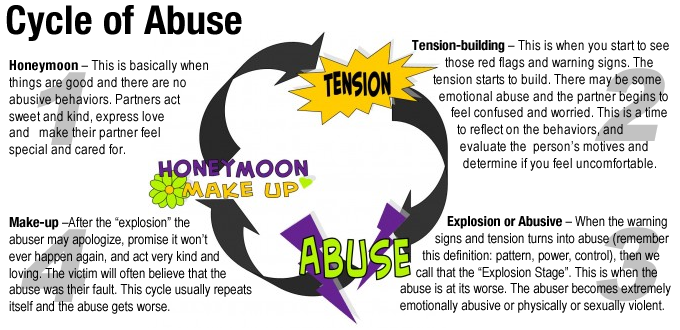 10 MOST COMMON WARNING SIGNS OF AN ABUSIVE RELATIONSHIP
Threatens others regularly.
Serious drug or alcohol use.
History of violent behavior.
Blames you for his/her anger.
History of discipline problems.
Insults you or calls you names.
Trouble controlling feelings like anger.
Tells you what to wear, what to do or how to act.
Threatens or intimidates you in order to get their way.
Prevents you from spending time with friends or family.

Source: JenniferAnn.org
Consent
Consent is the positive cooperation in act or attitude pursuant to an exercise of free will. A person must act freely and voluntarily and have knowledge of the act or transaction involved. Sexual assault is physical contact of a sexual nature in the absence of clear, knowing and voluntary consent. An individual cannot consent:
who is unaware that the act is being committed;
who is obviously incapacitated by any drug or intoxicant;
who is coerced by supervisory or disciplinary authority;
who is being purposely compelled by force, threat of force, or deception;
whose ability to consent or resist is obviously impaired because of mental or physical condition.

IN OTHER WORDS... only a person who willingly says "Yes" without threats, fear, or being drunk/drugged and who is fully aware and completely understands what is being asked of them and has complete freedom of choice in the matter is giving their consent.
PAY ATTENTION. just because someone said "Yes" once doesn't mean there is an open invitation to the same question at any time in the future. And, saying "Yes" once doesn't mean that is an automatic green light for the same thing in the future. Consent much be given every time — in words and actions — to a clear question. Maybe it's a one time deal. Maybe for two or three times and that's it. It depends on the person, in the moment.
AND, THIS IS THE IMPORTANT PART. Watch this brilliant video to better understand consent. It's an effective use of stick figures and a cup of tea entitled, "How to Explain Consensual Sex with a Cup of Tea."
Note: "Clean" version
Note: "Explicit" version (use of strong language).
THE BOTTOM LINE. No answer or no response does not mean "Yes." A drunken or drugged response — even if the word "yes" is spoken — is not actually a "Yes."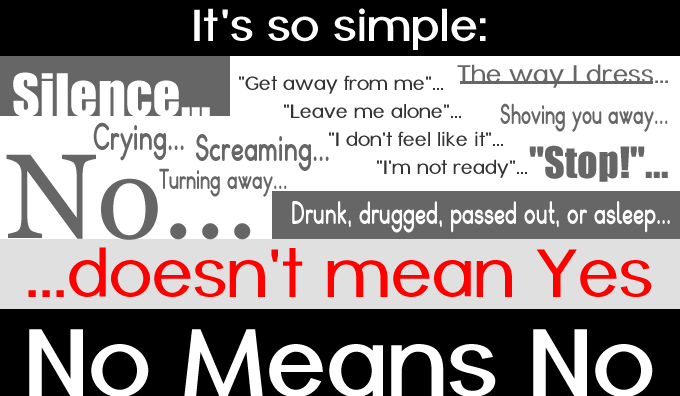 Risk Factors
Several proximal risk factors have been examined in relation to rape vulnerability including:
alcohol use;
dating location;
attitudes and beliefs;
behavior and frequency;
ability to detect danger cues; and
assertiveness and communication (Söchting: 83).
Prior victimization also appears to be a very strong risk factor as women with multiple incidents of victimization seem to have difficulty in detecting dangerous situations (Söchting: 86). In other words,
Four Risk Factors are particularly relevant to college students:
alcohol,
familiarity,
date rape drugs, and
location (including the victim's home and car).

Select Statistics
UNDERREPORTED. According to the United States Department of Justice, sexual assault is a vastly underreported crime. The FBI Uniform Crime Report 2000 states that a rape is reported about once every five minutes (911rape.org), whereas the Rape, Assault, & Incest National Network (RAINN), using data from the USDOJ, calculates that an average of one sexual assault occurs every 2.5 minutes. Additionally, one in six American women are victims of sexual assault (one in 33 men), and there were an annual average of 200,780 victims of rape, attempted rape or sexual assault in 2004-05 (RAINN).


LESS THAN 5%. Unfortunately, sexual assault on campus follows the national trend with less than five percent of completed and attempted rapes of college students believed to be reported (Karjane: 5). A variety of individual, institutional, and socio-cultural factors at colleges and universities contribute to victims' reluctance to report the crime. Reasons given for not reporting include not fully understanding what occurred, campus drug and alcohol use policies, adjudication, and trauma response (psychological distress, denial, etc.). Acquaintance rape is especially troubling to the victim because of pre-existing relationship between the victim and perpetrator that result in a range of conflicting emotions that inhibit a willingness to report (Karjane: 9). Bill Foley, former Chief of Public Safety at Saint Mary's College of California (Moraga, CA) believes that embarrassment is a key factor why sexual assault is not more widely reported.


COLLEGE: ONE IN FIVE. These numbers are especially relevant to college and university students as 80% of rape victims are under the age of 30 (RAINN), 22.2% of sexual assault victims are between the ages of 18 and 24 (911rape.org), and one in five female students are expected experience completed rape over a typical five year collegiate career (Karjane: 4). <!img src="toggle.jpg" border="0" /> More...